| Item ID | Starting Bid | Bids | Current Bid |
| --- | --- | --- | --- |
| 32726 | $50.00 | 2 | $55.00 |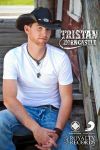 Growing up in a small community in New Brunswick Tristan's life, personal experiences and strong family values would inevitably find themselves embedded in some of his songwriting.
Tristan has grown up with the musical influences and aspirations of one day following in the footsteps of his idols Alan Jackson, Waylon Jennings and Brooks and Dunn.
Tristan along with his band members have performed with some of the biggest names in country music such as The Stampeders, Confederate Railroad, Dean Brody, George Canyon, Jimmy Rankin and Travis Tritt to name a few.
Tristan's current album "A Little Bit of Alright" came out on Royalty Records/Sony Music Entertainment Canada in 2014 with rave reviews, chart topping singles and the title track recently received a Canadian Radio Music Award nomination, which will the winner will be announced in May at Canadian Music Week in Toronto. This has helped pave the way to a bright career ahead for Tristan. With a 3rd album underway, it's full steam ahead for this east coast country artist.