| Item ID | Starting Bid | Bids | Current Bid |
| --- | --- | --- | --- |
| 32463 | $50.00 | 3 | $75.00 |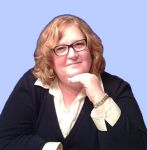 Susan Cassidy is originally from the west, having been born in Alberta with her early years spent on the Prairies. Her career has taken her from Halifax to Ottawa and finally to the Fredericton area in 1990. She retired in 2010 after a 38 year career in administration with the federal government. As a resident of Hanwell for the past 20 years she decided to stay in New Brunswick as it is now her forever home!
Susan believes it is important to participate in the community, which can be fun and rewarding, and has been a volunteer for various organizations. She was a volunteer member of the Hanwell Local Service District Advisory Committee from 2006 to 2014 and is a Past President of the Fredericton Botanic Garden Association. Being one of the founding members of the Hanwell Community Development Association she helped to obtain land which the Association is developing as the Hanwell Recreation Park. After being elected Mayor of Hanwell in 2014 Susan also became a member of the new Rotary Club of Hanwell.
The position of mayor is allowing her to continue to serve in the community and hopefully help to build a strong foundation for the future development of Hanwell. In her spare time Susan enjoys gardening, baking, and bird watching, and loves cats.