| Item ID | Starting Bid | Bids | Current Bid |
| --- | --- | --- | --- |
| 32459 | $50.00 | 1 | $250.00 |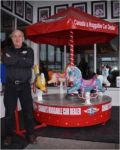 Jim Gilbert, Canada's Huggable Car Dealer! In 1979 at the young age of 21 Jim married his sweetheart Dawna (Seeley) and together they started their life long journey of raising a family and building a business. With a hope and a prayer they set out with 1 car for resale and never looked back. Taking that 1 car and growing it to an offering of 160 vehicles for resale, on a six-acre customer experience that has no equal. Now they employ over 26 team members. Their business model is based on Success is the Hug: Give first and pay it forward would be the foundation of Wheels and Deals long-term success. Do not wait for someone else to do it, show leadership, step up and stand out. Do not follow the crowd. Growth and success comes to the risk takers.
Operating Wheels and Deals Jim knows it is the journey, not the destination. Their marketing style has set, raised and is the bar that not only the vehicle sales industry aspires to but so do many other numerous industries in North America. Canada's Huggable Car Dealer has been the "go to" model at many conferences and conventions across Canada and United States. Recently, Wheels and Deals was featured in Minneapolis by Apple, Victoria BC and Quebec by The Seamless Brand Group, and Calgary by TEC Canada. Wheels and Deals is featured in many business books to date including #1 selling business book "Stick Branding" (Jeremy Miller),"Currencies that Buy Credibility" (Tom Wanek), "Nuts, Bolts and a Few Loose Screws" (Gair Maxwell), "It's Never too Late to Become a Millionaire" (Michael Hrankowski), and Bill Bishop's "The Problem with Penguins.
In 2014 Jim & Dawna truly made Wheels and Deals a family business. Son Alex and Daughter Chelsea are now part of the ownership team and run all day to day affairs of the family business. Jim and Dawna have three grand children (Reese, Charlie Gilbert and Gilbert Davis).