| Item ID | Starting Bid | Bids | Current Bid |
| --- | --- | --- | --- |
| 32458 | $50.00 | 1 | $55.00 |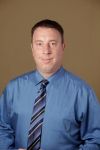 Jason Lutes is the owner of Power Plus Technology Inc, Magnetic Hill Irving and Crossroads@Hanwell Irving. Jason completed his education at UNB Fredericton. He completed a Bachelor of Science in Civil Engineering and quickly realized that his true passion was being a small business owner. Jason purchased Magnetic Hill Irving and quickly grew the business into one of the busiest service stations in the Moncton Area. Jason knew this one store wasn't challenging enough for him so he purchased a lot in Hanwell New Brunswick in 2012 and started planning his new project to build a high tech, never seen before one stop shop. His dream came true on June 23, 2014 when the Crossroads finally opened. Crossroads@Hanwell features Irving gas, a convenience store, Quiznos and Burger King. In October 2015 Jason won the ANBL agency store for Hanwell NB. Crossroads has quickly become the local one stop shop.
Jason is married to Krista and has two small boys, Caleb and Ethan. Jason enjoys camping, sledding, dirt biking and travel. Jason is involved in many different community organizations in both Moncton and Hanwell New Brunswick.