| Item ID | Starting Bid | Bids | Current Bid |
| --- | --- | --- | --- |
| 32455 | $50.00 | 1 | $50.00 |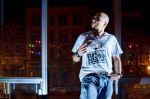 Naz was most recently Sean Kingston's OFFICIAL DJ, he is a well-known and trusted person in the music business, Nasty's career was set in motion while living in the Caribbean working with established artists within the industry. He has performed in Paris, New Zealand, Australia, UK, Saudi Arabia ( 2010 Formula 1, Gulf Air Grand Prix) , Virgin Islands and recently, he came back from doing a show in Jamaica with Shaggy, Beenie Man, and an entire slew of artists, with the proceeds going toward the Haiti relief fund.
He has been chosen as one of the capital region's most talented musicians and has represented the province of New Brunswick on an international stage in Vancouver for various performances at the 2010 Winter Olympics. He performed alongside acts like The Olympic Symphonium, Singer-songwriter David Myles, and acclaimed Soprano Opera Singer Measha Brueggergosman . He has completed Atlantic Tours with acts like Multi Platinum Pop sensation Sean Kingston, and supporting acts like Danny Ferenandes, Karl Wolf, and Girlicious. He was invited personally to attend and DJ a B.Day Bash for Russell Simmons in Miami, and serve his famous Coconut bread from his award winning restaurant – Caribbean Flavas.
He has also completed cross-Canada Tours with acts like Mr Konvict himself Akon & Kardinal, Super Performer and Producer Wyclef & Dancehall Legend Sean Paul, as their tour DJ, hypeman & Chef.
He has rubbed shoulders at the prestigious Mansion club, in Miami with acts like Lil Jon, Lil Scrappy, Dj Khaled and Twista. Nasty hosted the Snoop/Ice Cube concert and was also the official DJ and Chef. He was also hand chosen by the Black Eyed Peas to DJ Portion of the concert for the BEP and Pussy Cat Dolls Canadian Tour.
He was nominated by Flow 93 Toronto, MuchMusic, Stylus & Rogers Wireless as the Best DJ in the East Coast, six years in a row (2006 – 2011)). He has also hosted / stage managed the Canada Day celebrations for his city of Fredericton and helped to judge Dj competitions like the DMC's. He has also been on tour and hosted many different concerts and events, from artists like the Game and Snoop to DMX, and the Fugees. He has also hosted many different charity events for organisations like Cystic Fibrosis, Breast Cancer and raised money for the prevention of abuse towards women.
In addition to this he spent 4 weeks as the DJ and host for the Coors light Maxim Magazine Club Tour. DJ Nasty Naz has also been involved in the public relations, tour promotions, as the personal tour Chef and interviewing sessions and has even performed with numerous artists including, but not restricted to, Flo- Rida, Justin Bieber, Selena Gomez, Timbaland, Pitbull, Alexisonfire, Classified, Akon, Rhianna, Rise Against, K-OS, Leonard Cohen, The Trews, Eva Avila, Hedley, DMX, Sean Paul, Dr Jay.- Kingdom of Soca, Lauryn Hill, Swollen Members, Method Man, Theory of a Deadman, Sizzla, Default, Super Cat and Capleton.