| Item ID | Starting Bid | Bids | Current Bid |
| --- | --- | --- | --- |
| 32450 | $50.00 | 2 | $100.00 |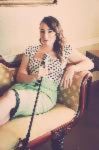 Apryll Aileen is a unique singer, songwriter, actress and performer. She has blessed the ears of thousands of listeners and awed audiences as her fingers graced the grand piano ivory keys.
With a soulful and groovy style, her first single "Hey Sugar" made it a full week on 97.3 The Wave Radio's Battle of the New Sounds! Her second recorded song, "Butterflies" is the soundtrack song for LA based Actor/Writer/Director Cayman Grant's short film, "Butterflies".
She has also worked on set for the feature film "Dominion" with LA Director Steven Bernstein. The film features prominent actors John Malkovich, Rhys Ifans and Zosia Mamet to name a few.
Apryll is currently working on her first album (EP) due out in September 2015, with Toronto based producer/writer Kenny Munshaw. Munshaw has written with and produced many artists from Justin Bieber, The Tenors, Beverley Mahood to 2012 Miss America, Laura Kaeppeler.
The album will be mastered by Scott Hull who has mastered albums for Sting, Steely Dan, John Mayer, Bob Dylan and more!
www.facebook.com/ApryllAileenMusic
@ApryllAileen