| Item ID | Starting Bid | Bids | Current Bid |
| --- | --- | --- | --- |
| 32417 | $50.00 | 1 | $50.00 |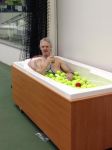 Rufus Nel - Director of Tennis, Abony Tennis Center
Leaving South Africa in 1994 and settling in Vancouver with his newly wed wife Karen, Rufus quickly got involved in the tennis business in Canada. Successfully running the tennis department at Hollyburn Country Club in West Vancouver Rufus established himself as one of the leading Tennis Directors in Canada winning Tennis Canada's facility of the year award. Not only was Rufus successful off court, he trained one of Canada's top juniors reaching the finals at the Junior French Open.
After nearly 30 years coaching and running tennis clubs Rufus decided to study a business degree at Simon Fraser University in Vancouver. As if running a club, studying part time was not enough, Rufus decided to train for the Iron Man Canada event.
Experiencing this mid life crisis it was time to move on. Rufus applied as a Senior Director for Tennis Canada in the Prairies where in his new role would be to build tennis in the region. Uprooting his family and moving to Saskatoon which lasted close to 3 years, he was soon asked to join Tennis Canada at their head office in Toronto as Director of Community Development. One of his many roles was a member of the national facility advocacy committee, where he was involved with the Abony Family Tennis Center project. Well the rest is history, Rufus for the 3rd time uprooted his family (two teens) and is now settled in Fredericton.
With Rufus as your lunch date you will hear many great stories about immigrating, uprooting a family as well as some true South African experiences growing up in the apartheid era. To find out more, bid now. Who knows he might even throw in a 1 hour tennis lesson.