| Item ID | Starting Bid | Bids | Current Bid |
| --- | --- | --- | --- |
| 32405 | $50.00 | 1 | $50.00 |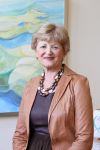 President & CEO - New Brunswick Community College
Marilyn Luscombe, New Brunswick Community College's first president and CEO, was appointed to her position effective January 1, 2011. In her first four years at NBCC, Marilyn has been responsible for leading the College forward from being part of a government department to its current Crown Corporation status. Her leadership has also entailed moving NBCC from a six-college structure to a new One College - One Team structure through a year-long, intensive reorganization process. The College also undertook a five-year strategic planning process in 2011-2012, contributed to by 1048 individuals both internal and external to NBCC. The Board of Governors launched the new plan - Imagine the Possibilities – NBCC 2012-2017 - in November 2012. During the first three years of implementing the plan, three major accomplishments have been the acquisition of Natural Sciences and Engineering Research Council funding to establish an Industrial Research Chair in Mobile First Technology; the launch of NBCC's first-ever Alumni Association which now has over 4500 members; and the establishment of NBCC's Community Leadership signature learning experience and the Robertson Institute for Community Leadership.
Marilyn is a native of Newfoundland and Labrador, and has extensive experience in publicly-funded community colleges, both at the College of the North Atlantic for fifteen years and at Selkirk College, BC, where she had most recently served as President and CEO for over ten years (2000-2010). Her leadership with her colleagues at Selkirk resulted in enhanced services for students including: increased investments and partnerships for the college, the establishment of a research centre in GIS and a Research Chair in Rural Economic Development, and increased support for the College's Mir Centre for Peace.
Earlier in her career, Luscombe worked in a variety of roles at colleges in NL, including: instructor, Director of Student Services, Coordinator of International Initiatives, Director of Planning, and Vice-President Academic. In June 2010, she completed three years as Board Chair of the Association of Canadian Community Colleges (ACCC) within her six-year elected tenure on the Board.
Other experiences have included: Chair of the Canadian College Presidents' Network and the Presidents' Academy; guest faculty and chancellor of ACCC's National Executive Leadership Institutes; speaker for the Canada-China Forums; ten-year term as a Board Trustee for the Western Regional Hospital Corporation (NL); and Chair of the Committee on Family Violence (NL), for which she was awarded the National Lifestyle Award for Community Voluntarism.